The 50 Rack Shot Gun is one of the primary shot gun used by Resistance Forces. This weapon is also very popular among mercenaries. These shot guns fire 10 scattered bullets at a time.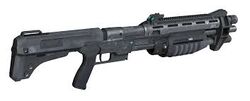 Rate of Fire: 60 shots per minute
Range: 10 feet
Ammunition Type: Lead Bullets
Capacity: 5 shots
Maximum Ammunition: 30 shots
Ad blocker interference detected!
Wikia is a free-to-use site that makes money from advertising. We have a modified experience for viewers using ad blockers

Wikia is not accessible if you've made further modifications. Remove the custom ad blocker rule(s) and the page will load as expected.