The A-235 blaster rifle is one of the  resistance's  main rifles .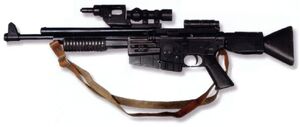 Weapon Type:
Automatic
Rate of fire:
180 shots per minute
Accuracy:
80 percent
Range:
500 meters
Capacity:
150 shots
The A-235 blaster rifle has decent accuracy and range. This rifle also has a rapid rate of fire and moderate damage. Plus there even an affordable price. It can even fire up to 15 shots before reloading.
The A-235 blaster rifle can easily be jammed and has high recoil.
Ad blocker interference detected!
Wikia is a free-to-use site that makes money from advertising. We have a modified experience for viewers using ad blockers

Wikia is not accessible if you've made further modifications. Remove the custom ad blocker rule(s) and the page will load as expected.