Chat Troopers are the primary troopers of the Chat Empire. Their primary weapon is M-30s and they rely on a combination of modern tactics and storming tactics.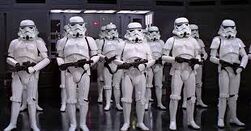 The unyielding warriors
Edit
Chat Troopers have decent skill and know how to use their weapons, but what makes them worse then anything is that they are relentless. They will constantly attack enemies until they either take heavy losses or overwhelm their enemies. These troops will also use cover whenever around and occasionally will use trenches when fighting in open battlefields with very little or no cover.
Ad blocker interference detected!
Wikia is a free-to-use site that makes money from advertising. We have a modified experience for viewers using ad blockers

Wikia is not accessible if you've made further modifications. Remove the custom ad blocker rule(s) and the page will load as expected.